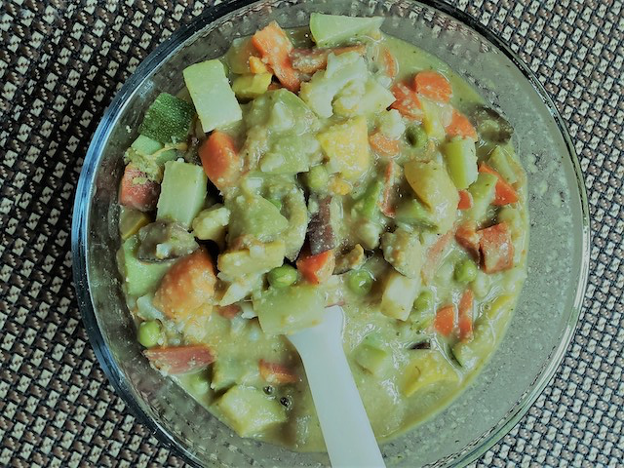 Ingredients:
You can use your choice of mixed seasonal vegetables, cut into bite sized chunks.
I like to use the following:
1 chayote squash
1 handful of fresh green beans cut into bite sized pieces
2 carrots cut into bite sized pieces
1 C peas
2-3 tomatoes chopped
1/4 head of cabbage red or green
1 bell pepper
1 C edamame or black eyed peas cooked
1 potato, cubed
1 sweet potato, cubed
Optional: 1 Beetroot, 1 Onion, 4-6 cloves of garlic etc.
Masala paste:
1/3 – 1/2 C Roasted gram or dalia or roasted peanuts or any nuts or seeds of your choice like sun flower seeds, pumpkin seeds etc.
6-10 Green chilies
1 in. organic ginger
4-6 black peppercorns
1 clove
1 tsp Cumin or 1 tsp fennel seeds
1/2 inch piece of cinnamon stick (or 1/2 tsp cinnamon powder)
1 tbs poppy seeds
1 bunch organic coriander (cilantro) (separated into stems and leaves)
1/4 – 1/3 C coconut grated or pieces or dessicated coconut
Add 1 C water and Set instant pot to *Saute*, as you prepare masala paste.
Masala paste method:
Dry grind roasted nuts or seeds to a powder.
Then add all ingredients except coconut and coriander leaves and grind to a fine paste.
Then add the coconut and coriander leaves, and pulse to grind to a coarse paste.
Play around with the ingredients for the masala paste, omit what you don't have and add any spices you like.
Instant Pot:
Add all veggies in layers with veggies with longest cooking time at the bottom (root vegetables, potatoes, carrots, etc.) , and shortest cooking time on top.
Top the layers with masala paste.
Set to Manual High Pressure for 2 mins, then Quick Pressure Release (QPR)
If all the veggies are not cooked, mix well and close lid and set it aside for 10 mins in retained heat.
Once all veggies are cooked, adjust salt and spices as desired. Play around with the ingredients for the masala paste, omit what you dont have and add any flavorings you like.
Serve with rotis, chapatis, pita, tortilla or with brown rice.
Enjoy. This dish is our family favorite and we make it every week. Also add vegetables of your choice and those that are your family favorite. Feel free to omit any vegetables listed above and add those of your chioce and availabitlity.
Comments are closed.