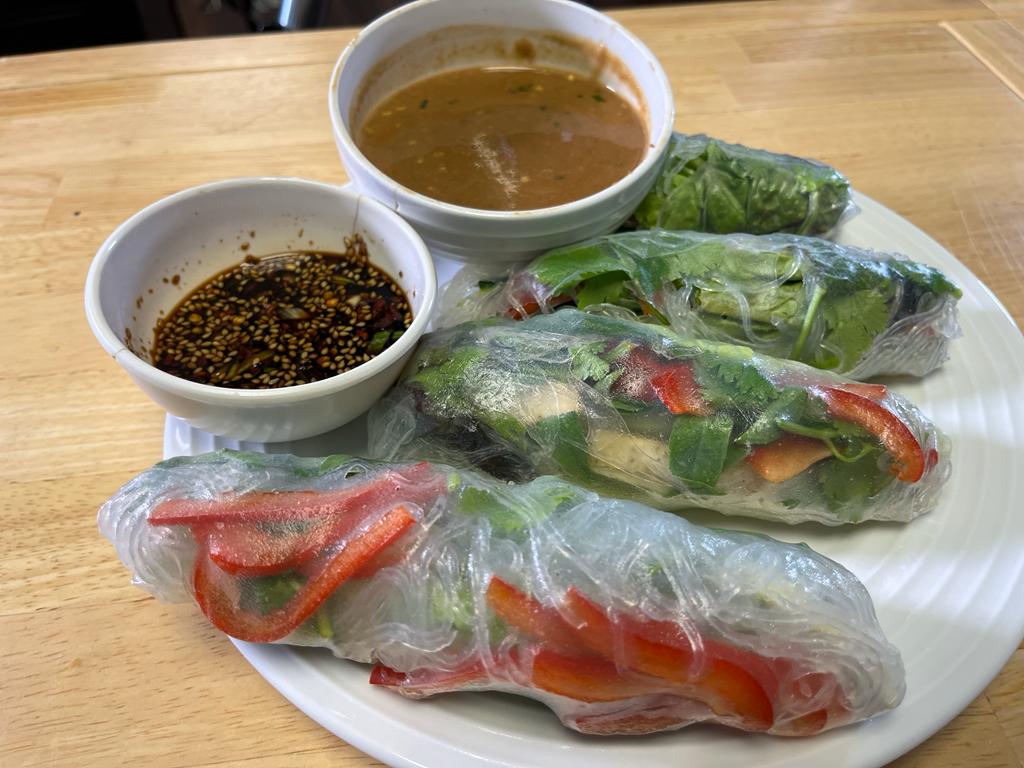 FRESH THAI BASIL SPRING ROLL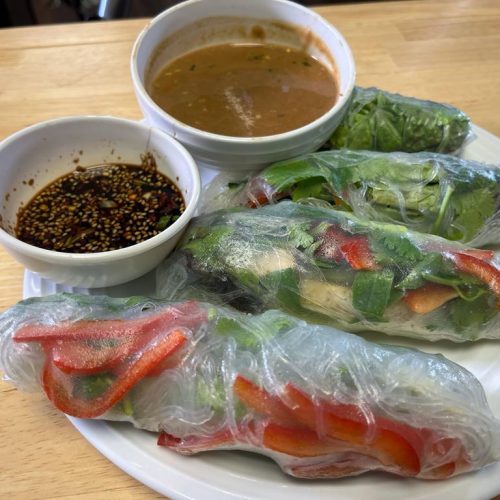 Fresh Thai Basil Spring Roll
Video
Ingredients:
For Wrapper: Rice Paper
For Stuffing
1 block Organic Tofu, extra firm or firm
1 small packet Thin Noodles – Bean noodles/moong bean noodles or rice noodles
Veggies: Cucumber strips, carrot sticks, colored bell pepper strips, avocado or any other vegetables.
Greens: lettuce or any green leaves
Herbs: lots of thai basil, mint and cilantro
Or a prepared chopped salad
Sesame Ginger Sauce:
4 tablespoons soy sauce
½ teaspoon roasted sesame seeds
½ teaspoon finely chopped fresh ginger
1/8 teaspoon red chilli flakes, to taste
Peanut Lime Sauce:
2 tbsp of Peanut butter
2 tbsp of soy sauce
1 green chilli, finely chopped
Juice of 1 Lime/lemon
1 tablespoon date syrup
INSTRUCTIONS:
Cut tofu in thin strips and place it on a silicon mat. Sprinkle some salt and black pepper powder and bake it for 3500 For 5-8 mins. Or until edges are firm. Set aside.
Choose any thin noodles like bean noodles or mung bean noodles or rice noodles. Soak it in boiling hot water for 10 minutes. Remove noodles from water and drain. Set aside.
Prep all the veggies as strips or as a chopped salad.
Prepare rice paper – Take rimless plate. Fill water right upto the rim. Soak rice paper under the water for 30 seconds. This step is time sensitive.
Now lightly wet the surface where we will assemble the spring rolls.
Remove rice paper gently out of the plate and place on the wet surface.
Now start filling up rice paper with strips of baked tofu, cucumber, strip of all different colour bell pepper, lots and lots of thai basil, mint and cilantro – line up them together.
Add a little bit of rice noodles, lettuce or any green leaves or avocado. Roll it tightly.
Serve fresh thai basil spring rolls with Sesame Ginger Sauce and Peanut Lime Sauce!!!
SAUCES TO GO WITH THE ROLLS
Sesame Ginger Sauce:
Combine all the ingredients to make a simple and flavorful sauce. Adjust ingredients to taste. This sauce is very salty to taste but tastes fine when eaten with the fresh basil rolls.
Peanut Lime Sauce:
Add some hot water to the Peanut butter to thin it to a sauce like consistency. Combine all the rest of the ingredients and its ready to serve.
Comments are closed.