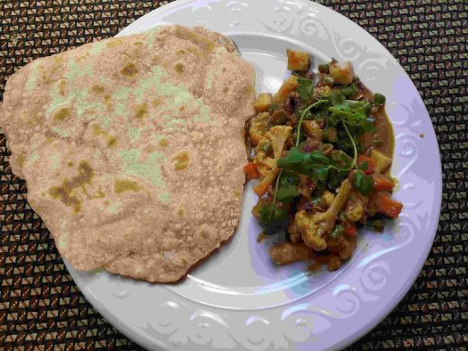 Ingredients:
1 C organic whole wheat flour
1/2 C water (add 1 tbs of water at time)
Method:
1. Mix with the back end of a wooden ladle to wet sand consistency until no dry flour remains. Set aside for an hour so that the dough becomes soft and pliable.
2. Pinch off a golf ball sized dough. Flatten and dip either side with a fine flour like Rice flour.
3. Roll into a small circle with a rolling pin . Smear all over with about 1/2 tsp water. Fold into half. Then fold diagonally into a triangle.
4. Roll into triangular shaped parathas.
5. Cook on medium heat on both sides, until soft brown spots form and the layers separate.
Serve with a kurma or mixed veggie sabzi and with plant based yogurt Raita!
Comments are closed.