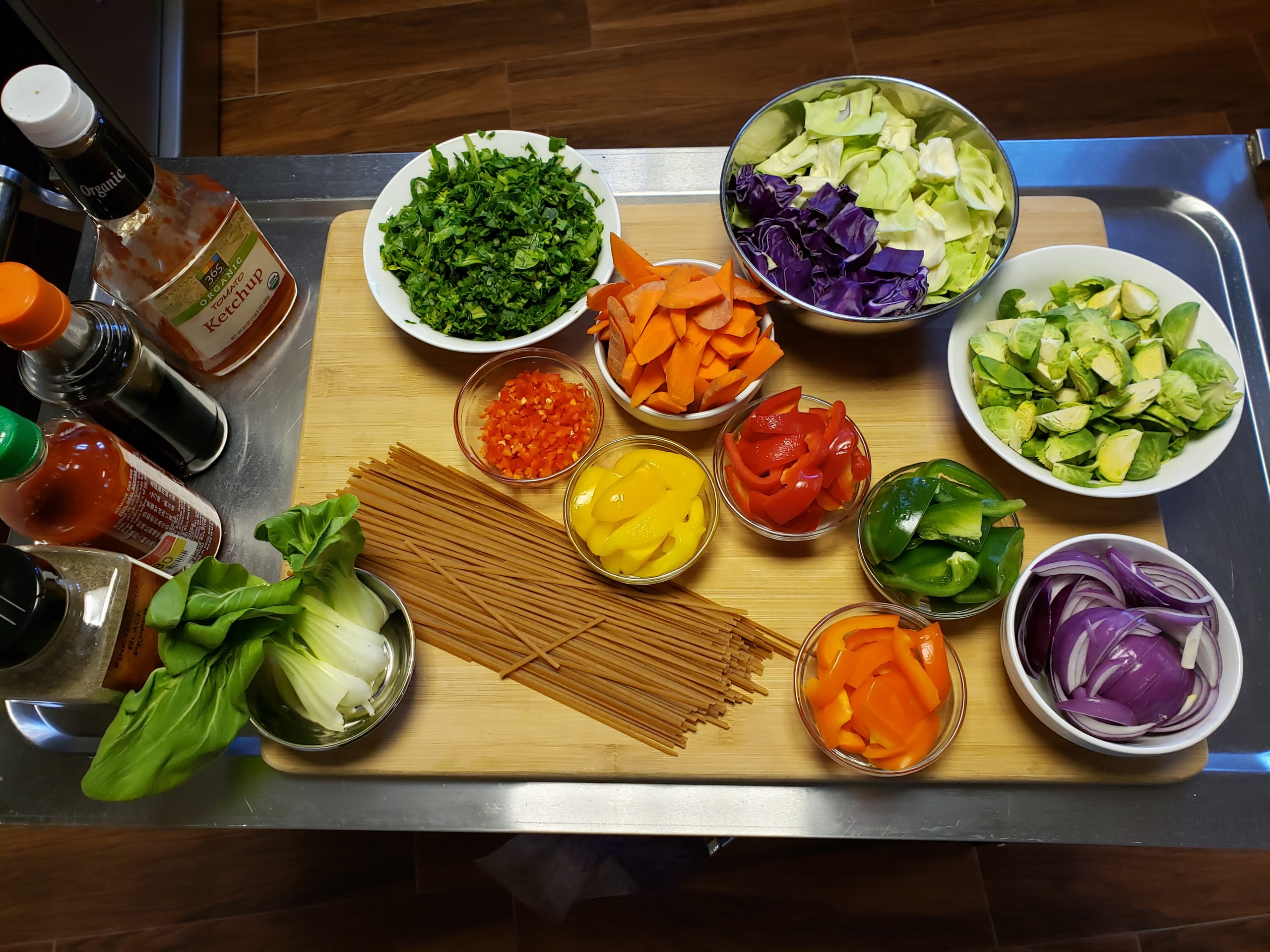 Vegan Vietnamese Pho Recipe:
Ingredients
Spices:
1-2

Bay leaves

1

star anise

4-6

cloves

1

inch

cinnamon piece

1/8

tsp

whole black pepper

1/4

tsp

fennel seeds

1

inch

fresh ginger

roughly chopped⅔
If using ground spices:
1

1 teaspoon ground star anise

1/4 teaspoon ground cloves

1 1/2 teaspoons ground cinnamon

1/4 tsp black pepper powder

1/4 tsp fennel seed powder

2 teaspoons ground coriander

1 tsp ground ginger powder
Veggies:
1/4 -1/2 C Chopped mushrooms

Shredded cabbage

french cut green beans

slivered carrots

broccoli

cauliflower

baby corn drained

sugar snap peas

steamed edemame and cubed extra firm steamed tofu and other veggies of your choice.
Garnishes:
Mung bean sprouts

Sprigs of fresh basil (use Thai basil if you can find it) or cilantro

Sprigs of fresh mint

Springs of fresh parsley

Thinly sliced green onions (mostly green parts)

Very thinly sliced fresh jalapeño (optional)

Greens as in bok choy, spinach, swiss chard, kale etc.

Small wedges of lime
Optional:
Steamed firm tofu

or baked tofu

Thai Green chilies

red pepper flakes

sriracha sauce

sliced fresh jalapenos - add to taste
Instructions
Boil 2 Qt. (6-8 C) water with the above spices in a medium sized pot for about 20-30 mins. You can use whole spices and then strain them out before serving or you can powder spices and add to the water.

Turn off stove and add any noodles of your choice. Thin noodles preferred. Cover and set aside for 10 mins. Ensure noodles dont overcook.

Add all the cut veggies to the pot with the spiced broth and noodles and keep covered for 10 mins. so that the veggies cook in the latent heat. Veggies will be lightly steamed yet crunchy.

Adjust spice quantities, vegetables and flavors to your liking!

Top with chopped greens, fresh jalapenos and your choice of toppigs. Dont forget to add a wedge of lime.

No oil, no salt, no sugar. Can you believe that?

Brings out the flavor of each spice and vegetable!
Comments are closed.