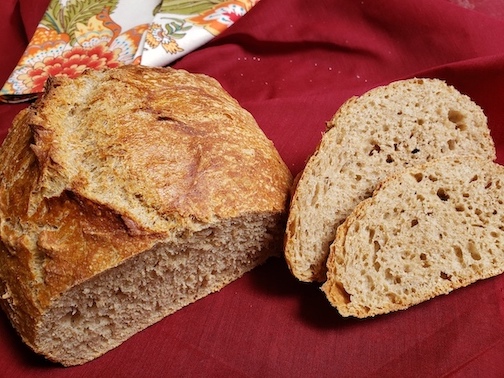 Simple Whole Wheat Spicy Bread – without Kneading!
Ingredients:
1 1/2 C unbleached, whole wheat flour
1 1/2 C unbleached, all purpose flour
1/4 tsp yeast
1 tsp salt
1 or 1 1/2 C water (If you add chopped greens you will need only 1C water. But if you use dried herbs you will need a total of 1 1/2 C of water)
Optional add-ins: jalapenos, red chili flakes, Thai green chili, sun dried tomatoes, chopped greens/herbs – finely chopped dill, spinach, kale, rosemary etc.
Method:
1. Mix all dry ingredients until well combined.
2. Add 1 C water and then add the other 1/2 C, if needed, 1 T at a time. Mix well to get a wet sand-like texture, until no more dry flour remains.
3. Set aside overnight for the dough to rise. (approximately 18-24 hrs)
4. Preheat the oven to 450 F. Place an oven safe dish, covered, in the oven during preheating. If you do not have an oven safe dish see Notes section.
5. Remove hot dish from oven and liberally sprinkle with cornmeal and transfer the dough into dish using a spatula dipped in water.
6. Bake for 30 mins at 450 F with lid. Remove lid and bake again for 10-15 mins. to get a nice brown crust. Remove from oven and place on a cooling rack. Cool for minimum of 30 mins before cutting the bread. If not, the bread will become gummy!
This is a very forgiving recipe, so don't fret. If the dough is too wet.
Notes: You can use a corning ware dish with lid which is oven-safe. Or use a pizza stone or cast iron skillet with lid.
Comments are closed.