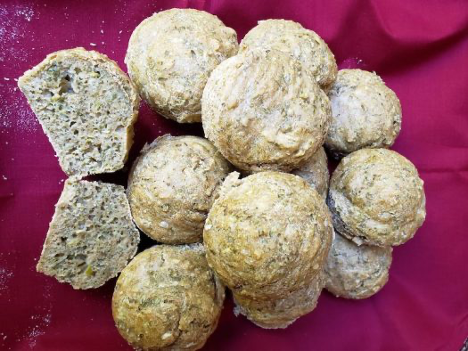 Ingredients:
1 1/2 C whole wheat flour
1 1/2 C all purpose flour
1/4 tsp active dry yeast for slow overnight rise, or 1 packet for quick rise in 2 hrs
1 heaping tsp salt
1 1/2 C water
Optional ingredients:
2 tbs sesame or poppy seeds for sprinkling on top
Herbs, or finely chopped greens, onions, or roasted jeera
Method:
Mix all dry ingredients until well combined.
Add 1 C water and then add the other 1/2 C, 1 tbs at at time. Mix well to get wet sand-like texture.
Set aside for 2 hours or overnight until the dough has risen. (Vary amount of yeast)
Lightly fold the dough. Divide it into 6 parts using flour as required, shaping dough into smooth balls.
Place the balls of dough on a lightly floured baking sheet or pizza stone, at least a couple of inches apart. Flatten the tops slightly with your fingers, and cover with a kitchen towel. Let the buns rise for an hour.
Preheat the oven to 370F degrees.
Brush the tops with a little water, plant milk, or aquafaba (chickpea liquid) for a glossy look. Sprinkle some sesame seeds or poppy seeds on the top, if desired.
Place the buns in the oven and bake for 25 minutes.
Remove to a cooling rack and allow the buns to cool before cutting them.
*NOTE: reduce water when you add greens or onions – 1 C Flour : 2/3 C water, Add 1 TBS at a time.)
Use for veggie burger buns or pav buns or with vegan butter or jam.
This is a very forgiving recipe, so don't fret. If its too watery its ok, not too stiff.
If the bread you bake becomes very hard, don't worry, process baked bread in a food processor to form bread crumbs. Store in refrigerator and use in 5-10 days.
Comments are closed.