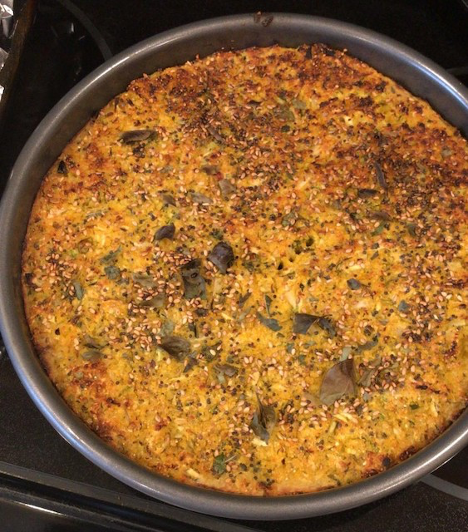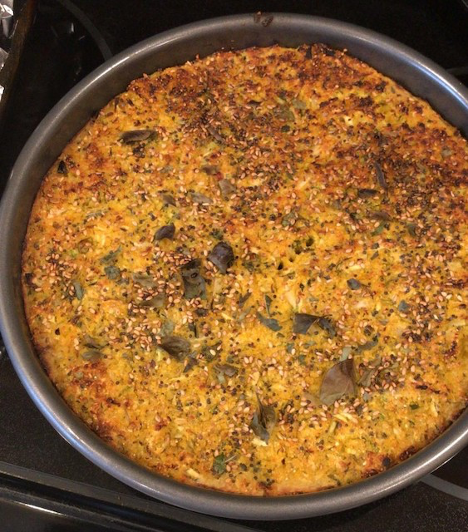 Grits Handvo – an Indian savory cake
Ingredients
2

C

yellow corn grits/polenta, millet rawa, or raagi rawa

1-2 T cream of wheat/sooji, (optional)

1 T chickpea flour or besan as thickening agent (optional) or handvo flour in place of sooji + besan

2 T flax meal

5 small or 2 large zucchini, grated

1 small bottle gourd, grated (doodhi)

1-2 onions, finely chopped (optional)

1-2

dry achar masala (optional) or a Spicy blend of cayenne Pepper, crushed red pepper, red chilli powder

4-5 T dry methi kasoori or 1 C fresh methi leaves (optional)

2 T toasted sesame seeds

1/8

tsp

turmeric

1 bunch finely chopped fresh coriander

1

tsp

grated ginger

6-8 finely chopped green chilies to taste

3-4 fresh green garlic shoots (optional)

2

tsp

lemon juice to taste

1

C

1 C plant based yogurt (optional, use water instead)

1/2 - 1

C

water

Salt to taste

2 1/2

tsp

Eno Fruit Salt
Seasonings:
Dry-roasted curry leaves

Dry-roasted sesame seeds

Dry-roasted mustard seeds

Hing
Instructions
Mix all ingredients well except Fruit Salt. Consistency should be similar to Adai batter (cake batter). Set aside for 2 hrs.

Mix in Fruit Salt just before placing in the oven. Pour about 1 in. deep in a glass or ceramic pan.

Sprinkle seasoning on top of batter.

Bake for 50-60 mins or toothpick comes out clean.

Broil on high for 1 min. to brown the top or 400F for 1-4 mins.

Should turn out crispy on the top and bottom.

Recipe courtesy of Anjana!

ENJOY with or without coriander chutney! Makes a great snack, and great for school lunch box!
Comments are closed.